The transition to electromobility is inevitable, and so is the adoption of electric vehicles in logistics. There are several good reasons for an e-logistic fleet, yet there are also unavoidable concerns that accompany any new endeavour. The overall costs, fleet size, charging infrastructure, vehicle range, and sustainability all need to be considered when making an informed decision about investing in an EV fleet.
But that's not all that matters. As electric car users and experienced logistics programmers, we would add another vital factor to this list: software.
EV software development in logistics
EV software development in logistics must meet the growing demand for fast, environmentally friendly, and customer-satisfactory deliveries. What are the pain points in logistics that can be tackled with the EV fleet and top-notch software?
Last-mile delivery
The final step of a product's journey from a warehouse shelf to a customer is known as 'last-mile delivery.' Overall customer satisfaction depends on this very last piece of a complicated logistics puzzle. It's also the most expensive part of the supply chain (accounting for 53% of the cost, as estimates suggest). This is where electric vehicles come in as the solution:
the e-fleet reduces the costs of last-mile operations, 
enables quick delivery (especially in municipal areas where carbon-fueled traffic is restricted),
and adds brand value.
The giants already know this. IKEA aims to achieve 100% emission-free deliveries in their markets by 2025. Amazon plans to operate using 100% renewable energy by 2030 and is collaborating with Rivian Automotive Inc. to introduce 100,000 battery-electric delivery vans for its Prime deliveries.
Here is where experience in EV software development in logistics is crucial to keep up with the challenges:
accurate planning of delivery routes,
reducing the number of miles driven,
managing day-to-day dispatches,
distributing packages within a vehicle,
and providing real-time information on charging station availability, among other functionalities of EV software solutions, are essential for success.
EV fleet management
Managing an EV fleet requires software that would address the unique needs of e-logistics: 
tracking and managing charging,
optimising routes,
and monitoring battery health.
However, EV software development in logistics offers even more than that.
Some solutions may integrate with renewable energy sources, such as solar panels, to optimise using green energy for charging. These systems often provide reports on reducing carbon emissions and the positive environmental impact of EV adoption within the fleet.
Other fleet management software can handle mixed fleets comprising carbon-fuel and electric vehicles. These solutions help to make a turn into an EV fleet less revolutionary-like and more seamless.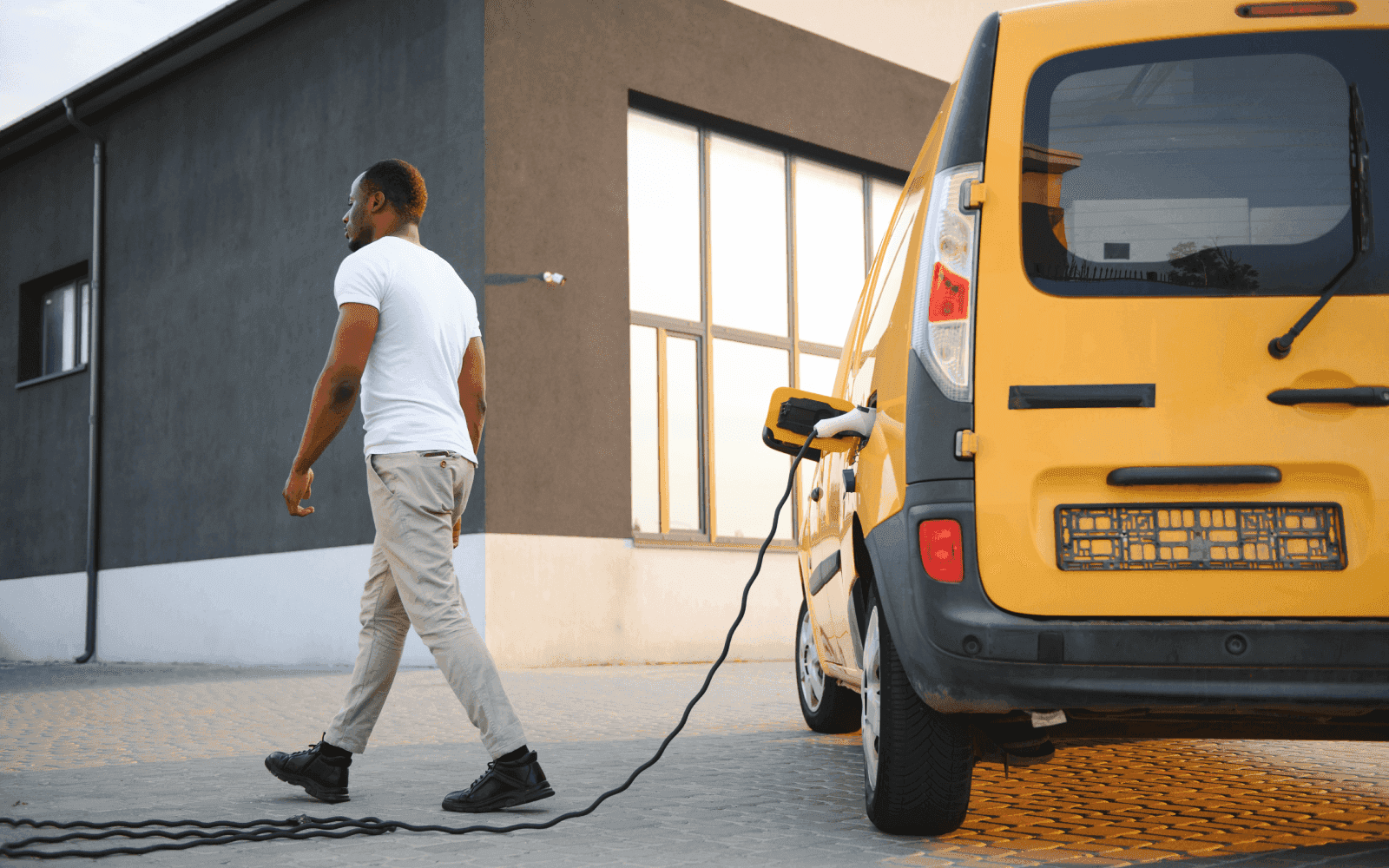 Smart EV warehouse
Manually operated electric forklifts and pallet jacks are common in warehouses. However, when we add software that tracks productivity, schedules maintenance actions, provides insights into battery health, and integrates with Warehouse Management Systems, we take efficiency and automation to another level.
Let's go further: AGVs (Automated Guided Vehicles), drones, robots, and AS/RS (Automated Storage and Retrieval Systems) are becoming a must in warehouse optimisation. EV software development in logistics creates solutions to use the full potential of these electric vehicles. We may say that today, moving inventory inside and between warehouses depends more on software intelligence than muscle strength.
Gamifying EV logistics
Electric vehicles are the future, but we shall not forget the human factor. The EV's range and reliability depend on driving habits (nothing new; the same applies to carbon-fuel cars). Excessive speeding, braking, and acceleration use additional energy, resulting in shorter EV range capabilities.
EV software development in logistics can address this challenge and promote sustainable driving habits. And best of all, it can be fun if we use a gamification approach.
Gamification is an interesting trend that has been successfully implemented in various fields (fitness trackers are the most common) and is becoming popular in logistics. The software can collect data on driver behaviour and help improve it. Just remember to choose "carrot" over "stick"! Very few employees are motivated by the threat of punishment, while rewards such as financial incentives, virtual badges, and the opportunity to learn new skills are much more effective. Tailor-made mobile apps and platforms can smoothly implement gamification in any EV logistics setting.
Where should we even begin?
The first step usually seems more complicated than it actually is. A great place to start is to identify your needs.
What do you want to electrify: last-mile deliveries or inventory movement inside or between warehouses? 
What software solutions do you already use, and what will you need to manage your EV fleet efficiently? 
What are your team's needs in terms of driver training and motivation?
Effective, user-friendly, and scalable software will be helpful throughout the whole journey, so find a reliable partner software house that will support you along the way.
Sources: